Electricians Dublin - Phoenix Electrical Services
Providing Electrical Services to the commercial, industrial & domestic industries for over 30 years
Electricians Dublin – Phoenix Electrical Contractors has been providing electrical services to the commercial, industrial & domestic industries for over 30 years. Based in Dublin but operating throughout Ireland, we service individual projects as well as large corporate maintenance contracts with our large team of Electricians Dublin.
We believe professionalism and safety is a top priority when it comes to electrical services. Our Dublin Electricians are:
Fully Qualified
Fully Insured
Registered with RECI
Current Tax Clearance Certificate
Safe Pass Compliant
Manual Handling Certified
MEWP Scissor & Boom Lift Certified
Our Expert Electricians Dublin are fully trained and experienced in the following areas of Electrical Services: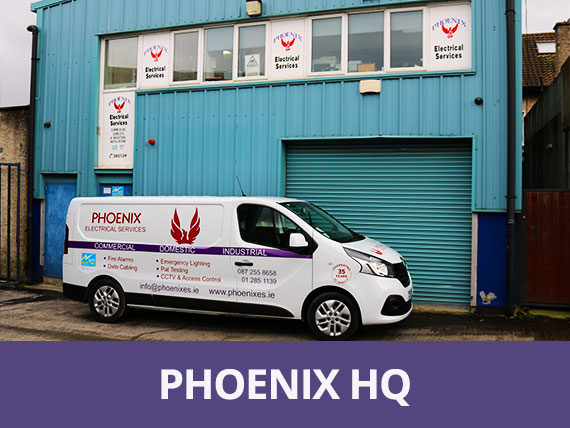 ALAN MAC LOUGHLIN
Managing Director
Managing Director of Phoenix Electrical Services since its inception in 1983, Alan was recently recognised for his commitment to providing top class electrical services by winning the top Award for Electrical Trade Professional of the Year for 2008 by Onlinetradesmen.com. Many of the staff of Phoenix Electrical Services have worked with Alan for years, some staff for over 20 years. If you wish to speak to Alan about any project, please feel free to contact him directly on 087 255 8658.
Phoenix Electrical Services – Winner of The Onlinetradesmen.com Trade Professional of the Year Awards 2008
With over 2,000 public votes received and an intensive judging process chaired by Duncan Stewart in conjunction with the Royal Institute of Architects of Ireland (RIAI), DIT Department of Construction Skills, RECI and the National Guild, the results are in and the prizes have been awarded.
Designed to identify and reward excellence within the domestic trade and construction sector, the 'Onlinetradesmen.com Trade Professional of the Year Awards' are Ireland's only public nomination competition to recognize tradesmen and builders who have excelled in their chosen field.
Andrew Mac Loughlin – National Skills Competition 2011 Finals
The Department of Electrical Services Engineering had two competitors taking part in Cork – Barry Kenehan in Industrial Control and Andrew Mac Loughlin in Electrical Installations and both performed brilliantly. Andrew Mac Loughlin, though not an overall winner, was highly commended by the judging panel, particularly for the programming element of his competition.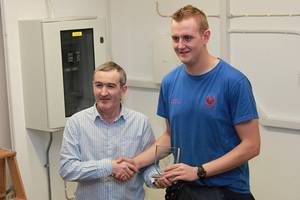 Get in touch with Alan Mac Loughlin and his Team now !